Bank of America fell 49% on Wall Street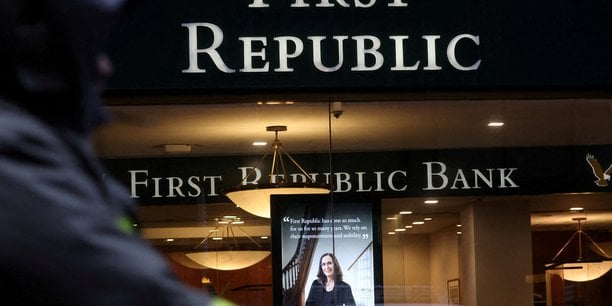 Fall by itself without hindrance. On Wall Street this Tuesday, shares of the multiple-suspended US bank First Republic plunged 49% amid investor concerns about the company's future after it was withdrawn through the end of 2022. Deposits exceed $100 billion in first quarter March The drop comes despite proposed savings measures to bolster the bank's financial health, including cutting staff by 20% to 25%. It was established on Wall Street in mid-March after the liquidation of the smaller bank Silvergate, soon followed by the bankruptcies of Silicon Valley Bank (SVB) and Signature Bank.
Deposit drain: Bank stocks are under pressure
To avoid a contagion of panic, eleven major American banks agreed to cooperate and deposit a total of $30 billion into the First Republic's accounts.
Despite reassuring measures by the authorities and rival firms, many customers chose to put their money in the big banks, which the authorities felt could not allow to fail.
Deposits fell 41% in the first quarter
Including this lifeline, deposits fell by $72 billion, or 41%, in the first quarter to $104 billion at the end of March — without this contribution, the bank lost $102 billion in deposits in the period. Deposits were flat from the beginning of the month and fell to 102.7 billion as of April 21, mainly due to payments made by its customers to settle their taxes. The bank has retained 97% of the customers it had at the beginning of January, its general manager Mike Roffler assured during a conference call. To strengthen its balance sheet, First Republic wants to increase its deposits, reduce its debt and cut costs, he said.
In addition to layoffs, this will require reductions in executive compensation and consolidation of offices. The bank is "examining strategic options to accelerate its growth," said Mike Roeffler. After a brief explanation of the bank's financial situation, the manager did not want to answer questions from analysts, which are usual during the results season. The bank's turnover fell 13% to $1.2 billion in the first quarter, while net profit fell 33% to $269 million.